A Guide To The Types Of Book Binding
Here at Bambra, we love books and we're pretty good at making them! Our Melbourne factory houses a bespoke bindery that has a rich history of expertise; equipment and tools dating back more than a century. Stapled, punched, glued, wrapped & sewn – we can indeed do it all.
The tactile experience of a well-bound book can add just as much value as the printed content inside. Choosing the right binding method can vastly improve the impact your project has. So, to help you choose the best method for your next book, we've put together this handy guide to many types of bookbinding methods; from the everyday to the bespoke. We've also included a few helpful tips for designers that encourage you to be bold with your next printed piece.
Saddle Stitch Binding
What is saddle stitch binding?
We kick off with saddle stitch, the simplest form of binding. Saddle stitch binding is cost-effective and suitable for documents with smaller page counts. Printed pages are stapled with wire through the spine and folded. A loop variation allows the document to be placed into a ring binder without needing punched holes.
Saddle stitch design tips.
Wire comes in multiple colours including gold, black and copper. We recommend using a thicker stock for your cover, and you can get creative by inserting pages with foldouts or shorter sections. Page counts need to be in multiples of four and booklets of up to approx. 64 pages will lie relatively flat when open and closed. Larger page counts will not lie completely flat when closed – choose an alternate method if this is important. Note that "burst marks" will always be visible where the wire pushes through the spine.
Side Staple Binding
What is side staple binding?
Side staple is a binding method most commonly used for documents with perforated tear-off pages such as quote books & delivery notes. Individual pages are stacked, then stapled together with wire through the front cover from front to back before trimming.
Side staple design tips.
Side staple binding allows you to mix and bind together pages on different stocks. The maximum page count will depend on stocks, but books up to approximately 15mm thick can be side stapled. Wire is available in many colours including gold, black and copper. Side stapled books can be made more durable with backing & cover boards, or a wrap-around cover.
Singer Sewn & Side Sewn Binding
What is singer sewn binding?
Singer sewn binding is a durable method that is used to make hard-wearing documents like passports. This method uses an industrial sewing machine to stitch pages together down the length of the spine. Side singer sewn or side sewn binding is an alternative method where pages are sewn through the cover from front to back, perfect for thicker books and notepads.
Singer sewn design tips.
Singer sewn binding is often chosen for its aesthetic appeal. It can have quite the visual impact, particularly when bright coloured or contrasting thread colours are chosen. The end threads can either be trimmed flush or left loose as a design choice. Similar to saddle stitching, thicker singer sewn books will not easily sit flat when closed.
Padded / Pad Binding
What is pad binding?
Pad binding or "padding" is a binding method that allows individual pages to be torn out – most commonly used for notepads. Pads are made by painting a lower strength glue onto the edge of stacked pages. Typically a thicker board is added at the back to provide strength and the ability to write on the pad when held.
Pad binding design tips
Multiple paper types can be collated and bound together – for example, bind a mix of different coloured papers. Embellishments such as foiling, a deboss or emboss really add that wow factor. Get creative with fancy die-cut shapes, add a wrap-around cover, or even add magnets to create your very own fridge pad.
Wiro / Plastic Coil Binding
What is wiro & plastic coil binding?
Wire and plastic coil binding are the two most common forms of punched binding. These methods allow a book to open completely flat and pages to rotate 360 degrees to the back. Printed pages are trimmed, hole-punched, then either a spiral coil is threaded or a wire fastener is attached and crimped closed.
Punched binding design tips.
Both binding types come in various colours and diameters ranging from approximately 15mm to 50mm. There are many options available for covers, either leave the spine exposed or enclose it with a cover. Get creative with your covers and add inner pockets, business card slots or cut-out designs.
Japanese / Stab Binding
What is japanese binding?
Japanese or stab binding is a decorative method that dates back centuries. Sheets are folded once down the centre then hole-punched and hand-sewn along the spine in various patterns with a needle and thread.
Japanese binding design tips.
As the book is sewn off the edge it cannot be easily opened flat, however scoring the pages can help. Thicker cover stocks can add durability, and different coloured threads can be used.
Perfect Binding
What is perfect binding?
Perfect binding is a mechanical process used to bind softcover books, magazines, and brochures. Individual pages are stacked and then glued into an outer cover with a square spine. A strong polyurethane (PUR) glue is used, hence the name perfect binding.
Perfect binding design tips.
Covers can be embellished with foiling or cut-out designs before being bound. Get creative by inserting pages with foldouts or shorter sections. Despite its name, perfect binding is not a flawless method, it cannot be opened flat, which means parts of images may become lost in the spine area. It's essential that allowances need to be made in your design for the spine width, particularly the inside of the cover.
Burst Binding
What is burst binding?
Burst binding is a variation of perfect binding where pages are folded into groups of collated pages (sections) that are 'notched' down the spine with a machine to create a strong bite for the glue. This creates a very sturdy binding, making it a better choice for books with larger page counts.
Burst binding design tips.
Like perfect binding, burst binding creates a square spine, which means allowances need to be made in your design for the spine width to ensure images and content are not compromised.
Quarter Binding
What is quarter binding?
Quarterbound, halfbound or taped binding was traditionally a cheaper way to make books by using inexpensive materials. It utilises two binding materials, a flexible material over the spine and a second for the cover. To add additional strength pages are usually glued and side stapled, making it less practical and harder to open flat than a standard book.
Quarter binding design tips.
The flexible binding material over the spine can be tape, cloth or even leather. An advantage of this method is that it allows a wide variety of non-traditional materials to be used as covers, such as wooden boards.
Case Binding
What is case binding?
The traditional hardcover book. Printed pages are folded and sewn together in groups (sections) which are then protected with a rigid hardboard cover. Covers can be wrapped in a range of materials including linen, buckram, or leather. You can also choose to print a cover design to be glued on top of the hard case cover. A casebound book lasts a lifetime and can easily be taken apart and restored many years from now.
Case binding design tips.
For case binding, book page counts need to be in multiples of eight and ideally a minimum of approximately 32 pages. Customise your book with embellishments such as marbled endpapers, ribbon markers, cover inserts, foil blocking and more. Optional coloured ribbon "headbands" conceal the glued edges at the top and bottom of the book.
Pamphlet Stitch
What is pamphlet stitch binding?
Pamphlet stitch binding is an elegant form of binding suitable for documents with lower page counts. Printed sheets are folded, hole-punched then threaded together by hand with needle and thread, finishing with a tied knot in the centre of the book.
Pamphlet binding design tips
Pages on multiple types of stock can be printed, collated, and sewn together. As holes are punched for the thread, thicker cords and threads can be used. This binding method works well with bright or contrasting thread colours.
Exposed Spine Binding
What is exposed spine binding?
Exposed spine binding is a visually stunning binding method, it is sometimes also called exposed smyth sewn or thread-bound. Pages are folded into groups of collated pages (sections) which are sewn together by hand at the spine using continuous thread. Once sewn, the spine is pad glued for additional strength. Exposed spine books open near flat.
Exposed stitch design tips.
Exposed spine binding is an expensive and challenging process that is suited to small runs, due to a great deal of handwork involved. The minimum page count is approx. 32 pages however it is most effective with larger page counts. Add a splash of colour by using brightly coloured threads. Boards can be glued to the cover and we would highly recommend this for added durability.
Chicago Screw Binding
What is chicago screw binding?
Chicago Screw is a binding process where metal screw posts are used to hold pages together. These can be undone to add or remove pages making it a perfect choice for folios, menus, and other frequently updated documents. A hardcover can be constructed to any size with external, internal, or hidden screws. A very popular option for photography portfolios and property sales presentations.
Chicago screw design tips.
Creating a custom screw binder is a manual process that is best suited to one-off pieces or small runs. Binding screws come in various lengths and colours including black, white, silver, gold & copper. Pages can be tabbed to separate sections, and you can combine pages of different stocks or even add printed translucent sheets. As the screws need to be placed away from the edge, it is important to design with more margin to avoid elements being lost in the gutter.
Custom Boxes, Slipcases & Ring Binders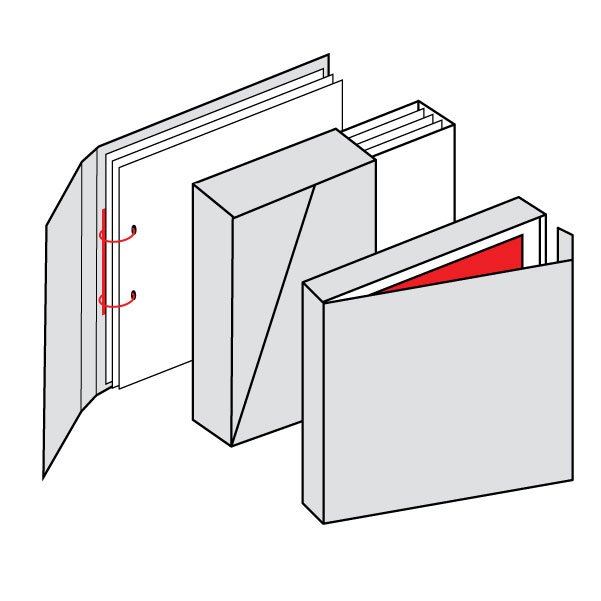 What are Custom Boxes, Slipcases & Ring Binders?
Custom boxes and slipcases are the ideal way to store precious materials and display your samples. It's a luxurious form of binding that is custom-made to your exact requirements. Boxes are constructed by hand with heavy-duty board and then wrapped in various materials such as buckram and linen cloths, leather or printed laminated paper.
Custom box design tips.
Choose from a wide variety of styles including; shoebox, matchbox, veranda box, clamshell box, slipcase or ring binder. Boxes can be opened and closed with hidden magnets or ribbons. Foam inserts can be precision cut and inserted to protect fragile contents. A wide variety of embellishments are available; make a logo or title stand out with a flashy foil or debossing, or add printed pictures (known as a cameo). Material boxes are extremely popular with our property sector clients as a classy way to display interior materials; tile, carpet, wood etc.
Ask an expert
We specialise in bespoke bookbinding, our in-house bindery has a rich history with expertise and equipment dating back to the early 1900s. As one of Melbourne's largest commercial printers we also offer the full range of superior-quality print services including offset printing, digital printing, letterpress and signage.
If you need some help deciding on which type of book binding would be best for your next project, or would like any more information about book binding techniques, get in touch with us through our contact page. We're passionate about our craft and more than happy to help.
contact us